Are you looking to offer a great MLS solution on your Cape Cod real estate web site and stand out from the competition? c4.net Internet Services has developed Realty Prospect Manager (RPM) specifically for real estate agents and realty offices on Cape Cod and the Islands.
Using our affordable RPM solution, your web site can be customized to display MLS listings within the context of your own web site… meaning your visitors will not leave your site when they search the MLS! Realty Prospect Manager offers the following features:
Seamless, customized integration into your existing web site
Visitors easily sign up for daily email notification service on their custom MLS searches
Allow visitors to search MLS anonymously or require signing up
"Send to a friend" allows visitors to easily share MLS interests
Offer custom MLS search queries to your web site visitors
Offer access to MLS listings anytime, anywhere from the web!
Realty Prospect Manager (RPM) is a great way for your clients and prospective clients to save time when looking for Cape Cod real estate. Web site visitors who sign up for a free RPM account from your web site can save their real estate searches, create a list of their personal favorites, and also opt-in to receive automatic daily email updates on listings that match their personal criteria.
If you're looking for a great solution for your Cape Cod real estate web site, contact us today! For pricing and more information on Realty Prospect Manager (RPM) by c4.net, please see our Real Estate Solutions section on c4.net.
Sweetbriar Realty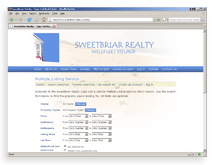 Sweetbriar Realty is located at the corners of West Main and Briar Lane in the heart of Wellfleet Village. Sweetbriar Realty offers a full range of real estate services and always keep an open door where Buyer, Seller, summer renter or friend can come right in and let them know how to help.
c4.net Internet Services redesigned the Sweetbriar Realty web site, and integrated Realty Prospect Manager (RPM) into their web site. The Sweetbriar Realty web site is engaging, interactive, helpful for anyone interested in Cape Cod real estate, and best of all is easy to navigate. We invite you to take a look at the Sweetbriar Realty web site today!
Vincent Associates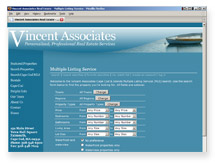 Vincent Associates is a Falmouth real estate company, and delivers personalized, professional service to sellers and buyers in Falmouth, Bourne and Mashpee.
c4.net recently worked with Vincent Associates to implement our Realty Prospect Manager solution into their newly redesigned web site. With RPM in place, visitors can easily search the MLS without leaving the Vincent Associates web site, sign up for free daily e-mail notifications, and easily save their custom searches and favorite listings!
Contact us today if you are interested in Real Estate Services available from c4.net! We'd love to add you to this Real Estate web page.