Provincetown Film Festival 2008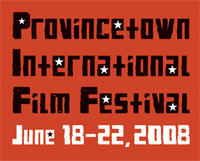 This year marks the 10th annual Provincetown International Film Festival. The film festival takes place from June 18th through June 22nd, with events, awards, and film screenings taking place each day. This years' event will honor Quentin Tarantino as the recipient of the "Filmmaker on the Edge" award. Gael García Bernal will receive the "Excellence in Acting" award, and Jane Lynch will receive the "Faith Hubley Memorial Award".
On the opening night of the festival (June 18th), Madonna's "Filth and Wisdon," will make its North American premiere. Feature Films being screened at the festival include "Deficit" by Gael Garcia Bernal, "Ask Not" by Johnny Symons, "Bigger, Stronger, Faster*" by Christopher Bell, and "Humboldt County" by Darren Godsky and Danny Jacobs.
There are over 50 different events happening during the Provincetown Film Festival. For Provincetown Film Festival tickets, a full schedule of events, accommodations information, or to find more information, please see the Provincetown International Film Festival web site.
If you go, be sure to grab a bite to eat at Napi's restaurant. Located at 7 Freeman Street, Napi's offers an eclectic, international menu with many delectable vegetarian options as well as beef, chicken and seafood. Afterward, head on over to the Bacchanal Fine Wine Bar, located on top of the Vixen at 336 Commercial Street. The Wine Bar offers an amazing list of domestic and imported delicious wines to choose from, and the atmosphere is relaxing and wonderful.